Ready to provide the best possible home environment that allows your child to develop to their highest potential?
Join now to learn everything you need to know about raising happy, healthy Montessori toddlers.
You want to raise an independent and confident child but have no idea where to begin.
You know you want to be parenting with Montessori but you're feeling overwhelmed with with too much information.
Montessori is a natural fit for your family but you just feel stuck and you can't seem to get started.
Are you ready to spend less time yelling or saying "no" to your child and more time enjoying these precious toddler years?
​

​

Are you ready to have an independent and confident toddler who is able to make their own snacks, dress themselves and put their toys away?
​

​

Are you ready to be able to connect with your child more than you ever thought possible?!
​

You've heard about Montessori and this natural parenting style is exactly what you've been looking for!
You've done some research but your head is starting to spin! You're left with so many more questions than you started with like:
What materials do I actually NEED to get started?
Why is my child behaving this way and what can I do to support them?
How do I set up my home for Montessori success?
Getting started with Montessori can be very overwhelming. Let me help simplify the process so you can get started right away!
I can completely understand how it feels when you're trying to incorporate Montessori but end up getting stuck.
How do I know this?
Because I've been there, too.
I had so many questions and no one to turn to. I let months go by before I finally figured out how to truly bring Montessori into my home and I wish I would have done it sooner.
Now I've been able to create a Montessori home for my family and I've also been able to help thousands of other parents create their Montessori homes too. My goal is to make this as simple as possible for you so that you can start practicing Montessori at home in just a few days.
Your Instructor
And just who am I? I'm Holly, an education consultant for modern day parents, using step by step guides to bring Montessori into more homes. I've been featured in Motherly and Montessori Rocks where I share my love for Montessori. Over the past 4 years I've helped thousands of parents bring Montessori in their homes by providing the support and training to get started quickly and easily.
Introducing the Roadmap to Montessori with your child.
A step by step guide to help you parent with Montessori naturally and easily everyday.
You've decided to bring Montessori into your home, hooray! But now what? Before we start changing your environment and creating activities we need to understand what it means to be a Montessori parent and how to use the Montessori principles in everyday life. This will serve as the foundation of your Montessori home.
You've made a great effort to learn more about Montessori but you want to be sure you're making the right changes in your home. Making these small changes in your home environment can mean big improvements with your child. Keeping the Montessori principles in mind, it's time to prepare your home environment for your child.
You're feeling pretty comfortable with the Montessori home you've created but you want to focus on your family's natural routine. You're ready to start using a more specific, age-appropriate guide to create more time for Montessori activities each week.
Each step of the roadmap is taught through our membership,
The Montessori Learning Center
With this membership you will find the training, support and coaching you need to start practicing Montessori in your home today.
What's included in The Montessori Learning Center?
MEMBERSHIP STAGES
Three Stages equipped with video lessons, workbooks, audio, transcripts and other supporting resources to successfully get you from just getting started to practicing daily!
What monthly resources are included in the membership?
NEW MONTHLY RESOURCES
Each Thursday of every month you get a NEW Montessori resource specifically created to help you on your Montessori journey. That's 4 totally new resources each month to help you stay on track!
What age-appropriate resources are included in the membership?
MONTESSORI BY AGE
Alongside the membership stages and the new monthly resources you're also getting ALL of the Montessori By Age resources! This includes 5 age-appropriate workshops, workbooks, activity lists, developmental checklists and planners!
What SUCCESS looks like inside The Montessori Learning Center Facebook Community:
AND HAVE I MENTIONED THE VIP BONUSES?!
Sometimes it's just easier to ask an expert.
That's why I've included a FREE MINI HOME ASSESSMENT when you join with the PAY-IN-FULL PLAN!
**ONLY AVAILABLE WHEN YOU ENROLL IN THE PAY-IN-FULL PLAN!**
What is a home assessment?
It's the chance to show me pictures of your home and get expert advice on how to bring Montessori into your home. Being able to have an open line of communication with me to help you prepare your environment will be priceless when just getting started with Montessori!
This full service is normally $197 so join us inside the Montessori Learning Center before you miss your chance to grab this Mini Home Assessment!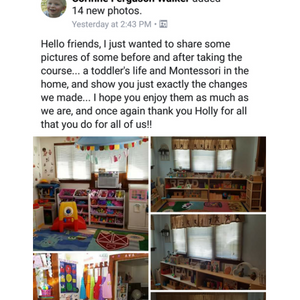 You've searched Google.
You've found Pinterest-perfect, Insta-fabulous, unrealistic Montessori home setups.
Now, you're feeling even more overwhelmed than before!
Well, it's time to STOP researching and START practicing Montessori!
Pricing Plans
Monthly Plan
No contract. Cancel at anytime.
Pay-in-Full Plan
One time payment. LIFETIME access & bonuses.
"I was extremely overwhelmed by all the montessori information out there, it felt like I needed a lot of money and a lot of time and space to achieve it, there were so many concepts I had no idea where to start. Holly breaks these principles down and guides you step by step focusing on each principle, working on one principle at a time in an order that makes sense. She also emphasises that montessori isn't about expensive material or large open plan house spaces but more the practices that foster independence and respect. I have seen so much improvement in my LO already and I personally grow more and more confident with each lesson."
Heidi Markland
"This is PERFECT! This is exactly what I have been looking for. An easy access to do more Montessori at home. I have tried other ways/forums/communities and it was too time consuming! The way you package information in small age appropriate packages makes it much easier to access. THANK YOU! For making Montessori accessible for me and my family."
Corinne Austin
"To be very honest I enjoyed every part of this program, one thing that really stood out for me was how to get organized in my home and declutter."
Cherokee Biddle
"I can truly say that this experience has changed my entire outlook on the way I parent and the environment I want to create for my son. I'm so happy with all the progress we have made and will continue to make on our Montessori journey."
Yolande
"Very resourceful and insightful. You summed it up very simple and made it sound like I can do this. I love the way you explained it in each chapter simple and to the point and using examples really made me want to learn more about Montessori."
Frequently Asked Questions
When can I access The Montessori Learning Center?
As soon as you become a member you will have full access to The Montessori Learning Center. This includes all lessons, video trainings, workshops, monthly resources, printables and extra trainings.
How long do I have access to The Montessori Learning Center?
You will have access to everything in The Montessori Learning Center as long as you are a member. If you cancel your subscription you will no longer have access to anything inside the membership area. Lifetime access is available with full payment and available for as long as the Montessori Learning Center is online.
What if I am unhappy with the subscription?
We would never want you to be unhappy! If you are unsatisfied with your subscription purchase, contact us within the first 14 days and we will give you a full refund (not available for pay in full or one time payment options).
Children who learn using Montessori for any amount of time will retain the social and educational benefits.
These benefits will allow them to perform better at every stage of their development.

Don't wait even one minute longer to bring Montessori into your home.
Montessori schools charge on average $3,000 to $10,000 per year!
Save your money by simply bringing Montessori into your family home.
This chart shows the massive growth of Montessori schools from the 1970 until 2014 just in the U.S.
National Center for Montessori in the Public Sector. (2018). Growth of Public Montessori in the United States: 1975-2014 - National Center for Montessori in the Public Sector. [online] Available HERE [Accessed 15 Aug. 2018].
​



Invest in your child's future and join us inside the Montessori Learning Center now!
Once you click the button above you will:
Enter your email address and select payment choice.
Pay for the membership. (PayPal and credit card options are available.)
You'll then have instant access to The Montessori Learning Center!
14 Day No Questions Asked Money-Back Guarantee
There is absolutely, 100%, NO RISK in joining The Montessori Learning Center. If you are unsatisfied with your Monthly Plan purchase, contact us within the first 14 days and we will give you a full refund.
**Available for payment plans only. This EXCLUDES the Pay In Full Plan.**
"Montessori living can be overwhelming, but by joining the group, even making simple changes and picking up ideas makes a world of a difference. My son is thriving and so proud of himself because I have truly learned how to observe his interests and provide him with age appropriate practical life activities. The group support has been amazing! It is so refreshing to get questions answered that I wouldn't be able to find out from my own family or friends. I am so excited to continue our Montessori journey."
Lauren Niehausen
"I really appreciated and enjoyed learning more about Practical Life and the theory behind it. I'm fairly new to Montessori and love learning about how to incorporate it more in my home for my 18 mo daughter. There were many great ideas to get started on, and I love the added Quick Start Action Plan too. Thanks!."
T. Morgan
"I really enjoyed this workshop. I love that it was online and I could watch, listen and take notes in the comfort of my own home (bed). The content was very useful - I mainly work in the Montessori primary age group (3-5 years) but I do some work with child care centers with infants and toddlers and the insight into appropriate materials to use with the younger children was very valuable to me. Thanks very much! Looking forward to the next one"
Jasmine
"It has been great to join MLC and it's very comprehensive and informative. I got plenty of info and ideas to give lessons to my daycare children."
Elisabeth Tongdet
One of my favorite parts of the MLC is having a community that is learning about and doing Montessori together. Holly is so helpful, and she takes the time to get to know each member. I love that this community keeps you focused on going forward with your Montessori journey. I also love the monthly curriculum! It's been so nice to have the ideas, suggestions, and materials provided each month so that it's easy to do Montessori with your toddler.
It's up to you to provide the environment which allows your child to develop to their highest potential.
Don't regret waiting too long to get started with Montessori.
Join The Montessori Learning Center today and start seeing the benefits of a Montessori home tomorrow!
Pricing Plans
Monthly Plan
No contract. Cancel at anytime.
Pay-in-Full Plan
One time payment. LIFETIME access & bonuses.
If you are ready to give your child the best possible start in life let me help you simplify the process of setting up a Montessori home so that your child can thrive at every stage.

A 5% donation is made on your behalf to The Pyjama Foundation when you enroll in the Montessori Learning Center.
At The Pyjama Foundation, they provide children in foster care the opportunity to change the direction of their lives with learning, life skills and confidence. Through the Love of Learning program, volunteers are matched with a child in care and spend time with them once a week, focusing on learning-based activities. Most importantly, the volunteers give foster children a chance to reach their life potential, despite a fragile start. Children in care have the lowest education outcomes nationally. By improving their learning skills, The Pyjama Foundation is making a positive, life-long impact.
Thank you in advance for helping all children experience a lifelong love of learning.